What our patients say about us
Dr. Periman —I just got home and my eyes feel SOOOOOO much better! I don't know where I would be without you!  You are awesome at what you do!  I so appreciate that you've never been interested in treating just my symptoms but getting to the root of my MGD/Dry eye/Ocular rosace condition.  You continue to take a multi-prong approach which allows me to have the best shot at living my best life!  I know if you had not prescribed the perfect cocktail of drops, products, IPL treatments, supplements and sleep goggles, my trip  to Africa would have NEVER happened!!
I know I'll never be free of this condition but I also know and appreciate that I have you as my partner!  How lucky am I to have someone with your expertise locally!
You are the Dry Eye Master! Thanks for taking such good care of me over the years.
Dr. Periman is fantastic and really  knowledgable about dry eye disease. She really wants to help people. Unfortunately, I live in Italy but she helped me through Skype. I developed  dry eye two years ago after isotretinoin … I hope to personally visit Dr. Periman in the  near future!   Dr Periman, Thank you so much!  You help me to have faith in this hell!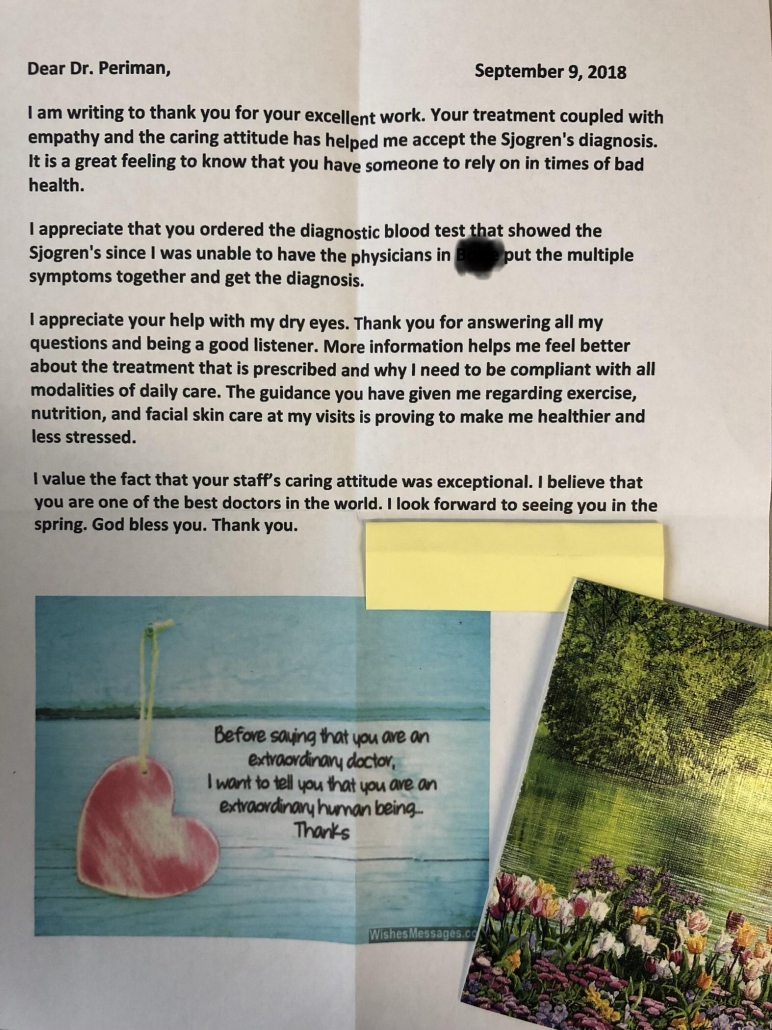 " I have been obsessed with skincare since I was 12 years old. As a teenager, I used to use my mom's fancy department store anti wrinkle creams because I love the way they smelled and felt on my skin. Another obsession of mine is makeup and even though I do not wear a ton, I pride myself on knowing what the latest makeup trends are. My nightly skin care regimen consisted of my favorite products like Retin-A, high potency acidic face washes, and lash growth serums. I thought that I was "taking care" of my skin by being diligent about my nine step nightly beauty routine.
In 2017, I met the dryeymaster, Dr. Laura Periman. Through Dr. Periman's thoughtful way of educating patients as well as her own peers, I quickly learned that most of the products that I was using were completely toxic to my eyes. Dr. Periman's clever ways of education helped me identify not only what not to use, but I also understood what these "no-no" ingredients were doing to my physiology. I was shocked to learn that I could have been doing some permanent damage to my corneal nerves as well as to the vital tiny little glands that help with producing the oily part of my tears.
I went "cold turkey" in 2018 with my fav products and my eyes have never felt better. My optometrist noted that my tear film actually looks healthy again which means no chunks of mascara and sparkly glitter flecks floating around in my tear film. My vision has improved as a result of taking better care of my eyes. Dr. Periman is one of the few doctors that I have met that will literally go through your cosmetic bag and help you weed out the ocular surface "offenders" and help you replace them with ones that are friendly to your eyes. If you are anything like me, it is scary to think of giving up your favorite products but there are now so many more natural ones out there that do a great job of making anyone feel splendid. Dr. Periman is the expert in dry eye disease and I would highly recommend her to anyone that is experiencing discomfort with their eyes."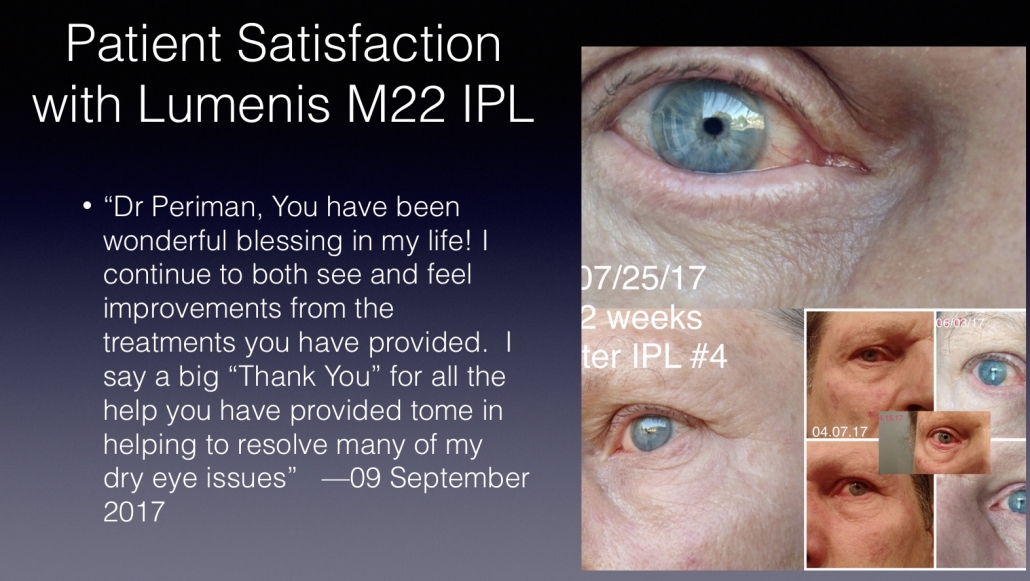 Dr Periman, you have been a wonderful blessing in my life!  I continue to both see and feel improvements from the treatments you have provided.  I say a big "Thank You" for all the help you have provided to me in helping to resolve many of my Dry Eye issues.
September 9, 2017
Having a physician like Dr Periman-who genuinely cares for your health and well-being is an incredible asset.  Whether you are a coworker or patient, you always feel she is on your side and on your team.
In the time that I worked with her, I saw many patients benefit significantly from both her counsel and treatment.  Her approach to patient care always stems from a place of compassion and empathy, but she is also clear and direct.  She is especially well-suited for complex and difficult cases, requiring high levels of energy, intricate problem solving and enduring patience.  It is also worth mentioning that, to her, integrity is essential.  She is always honest and makes decisions motivated solely by what is in the best interest of the patient.  Truly one cannot go wrong with Dr P.
Lovely experience and learned so much about my dry eye and what has been going on. I really like that she explained everything to me as she did it and I appreciate that. Looking forward to my journey of IPL and feeling better after a tough lonely 4 years. Thank you